Few dessert sauces have the stamina and the notoriety like creme anglaise. Its ultra creamy texture and powerful vanilla fragrance makes it the perfect sauce to pour over fresh fruit, dense cakes or on its own topped with meringue and toasted nuts. We're swooning over here just dreaming about it. But what if we told you that you can have all the custard-y goodness of creme anglaise in the form of ice cream? Then I bet you'd be as excited as we are about this recipe! By holding onto all the components that make creme anglaise amazing and churning them into a cold, thick frozen treat, this ice cream doesn't stand a chance against any other (except maybe Rocky Road). You can top it with whipped cream for an extra indulgence, smother it in caramel sauce or sprinkle on some freeze dried berries and chopped nuts. This creme anglaise ice cream recipe is a total game changer!
Learn to cook it along with us in this short cooking demo! Once you get a taste of that sweet, cold goodness you'll never be able to go back to plain old vanilla.
Creme Anglaise Ice Cream
Ingredients
12 egg yolks
10 oz granulated sugar
1 qt half & half
1 vanilla bean
Directions
1. Place half and half in a saucepan and bring just to a boil.
2. In a bowl. Whisk the egg yolks and sugar together.
3. Temper the egg mixture with part of the half and half, then pour into the remaining half and half.
4. Cook over medium heat until the mixture coats the back of a spoon, stirring constantly. Do not let the sauce to exceed 185F or the mixture will curdle.
5. As soon as the sauce thickens, remove t from the heat and pour it through a fine mesh strainer into a clean bowl. Chill the sauce in an ice bath, then cover and keep refrigerated.
6. When thoroughly chilled, add to an ice cream maker and churn until it reaches a thick, pudding like consistency.
7. Add to bowl and place in freezer. Let freeze for 3-4 hours or until solid. Serve with fresh berries, whipped cream, caramel sauce or shaved chocolate.
Online Culinary School Planner & Checklist
Online Culinary School Planner & Checklist
Find out what a culinary education can do for you.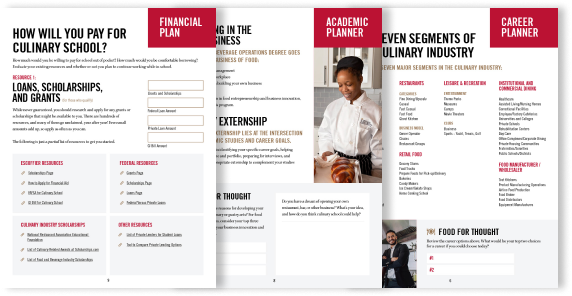 What might a career in the culinary or pastry arts look like for you? Online culinary school is a fast, affordable way to launch a career in the culinary or pastry arts. Get the workbook to see how it could help you.
YES, I want the workbook!