Any good host provides guests with an assortment of tasty items to munch on while they await the holiday ham or tenderloin. If you've been taking online cooking classes, though, it might be time to take your appetizers beyond the usual chips and dip. Here are a few simple recipes for pate that will impress your guests and have them returning for a second plate.
1. Classic chicken liver
A pate made with chicken liver is a great start to an evening with family and friends. The New York Times provided a recipe that begins with sauteing chopped shallots in butter on medium heat.  When the shallots become translucent, add a pound of fresh, trimmed chicken livers, plus chopped thyme leaves and a splash of Madeira or port.
Cook for about five minutes, stirring occasionally. Watch for the wine to reduce and the livers to begin browning. Pour the liver mixture into a blender with heavy cream and more butter.
Puree the ingredients until they're smooth and add salt to taste. Place the pate in a glass bowl or jar, packing it in and smoothing the top. Cover with plastic wrap and move the pate into the refrigerator until it's firm.
2. Vegetarian alternatives
If you prefer to skip the liver but still want plenty of savory flavor, Serious Eats offered some ideas for a vegetarian pate. Soak pecans in water and chop a head of cauliflower. Set the florets on a baking sheet lined with foil and toss in extra-virgin olive oil, salt and pepper.
Roast the cauliflower in an oven set to 500 degrees Fahrenheit for 20 minutes, flipping once. In a saucepan, saute garlic, onion and a pinch of cayenne pepper. Cook for four minutes, stirring frequently, and then add a quarter cup of brandy.
When the brandy evaporates, throw in the cauliflower, heavy cream, a sprig of thyme, and the pecans. Simmer for about 10 minutes before removing the thyme and adding soy sauce. Puree the mixture, seasoning with salt and pepper. Then, move the pate to a container and refrigerate.
3. Easy fish dish
For a quick and simple appetizer, Good Food suggested a pate made from smoked salmon, dill, and lemon juice. First, puree a soft cheese, like feta or brie, along with creme fraiche, lemon juice, and black pepper. Add chopped pieces of smoked salmon to the mix and puree again. Chop some dill, and mix the herbs into the pate.
Pate is a fantastic dish to welcome your holiday guests. As you learn to cook, you can find many intriguing ways to customize this classic spread.
Interested in learning more about perfect plating and gorgeous ambiance? Explore the culinary arts degrees and diplomas from Escoffier!
Online Culinary School Planner & Checklist
Online Culinary School Planner & Checklist
Find out what a culinary education can do for you.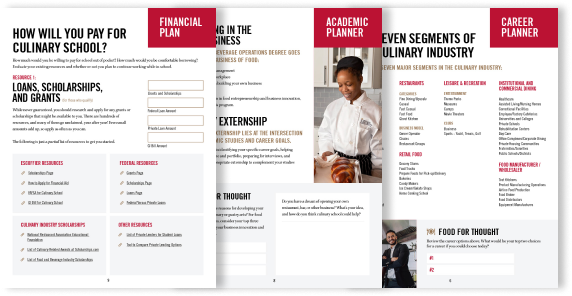 What might a career in the culinary or pastry arts look like for you? Online culinary school is a fast, affordable way to launch a career in the culinary or pastry arts. Get the workbook to see how it could help you.
YES, I want the workbook!