If you're learning to cook, chances are your refrigerator holds a faithful bottle of soy sauce at the ready. This salty condiment is fantastic for adding flavor to rice or stir fry. However, you may not be getting as much use out of this classic sauce as you could. Here are three easy recipes that put soy sauce to work:
1. Create an exceptional soup
One of the best uses for soy sauce is to accentuate savory tastes in a pot of soup. For instance, Dave Lieberman of the Food Network offered a recipe for a mushroom soup that spotlights the condiment. It starts with browning garlic and ginger in vegetable oil before adding chicken broth, fish sauce, and three tablespoons of soy sauce to the saucepan.
Bring the mixture to a simmer and throw in sliced portobello, cremini, and shiitake mushrooms, plus cabbage and pieces of carrot. After 20 minutes, add two handfuls of snow peas and wait a few minutes for them to become tender. Mix in scallions as you take the pan off of heat, and serve the soup with a topping of sesame oil.
2. Step up your marinade
Soy sauce is perfect in marinades for a wide variety of dishes, from chicken to tofu. If you're grilling a steak, Martha Stewart Living recommended combining the sauce with olive oil, garlic cloves, and lemon juice. After four hours in this mixture, the meat will be packed with flavor.
3. Bring excitement to veggie lasagna
There are plenty of great ingredients in the recipe for spinach and mushroom lasagna from Serious Eats, but soy sauce is a vital one. Start by cooking garlic in butter for 30 seconds before adding two pounds of spinach in batches. Pour in heavy cream, heat the mixture to a boil and then simmer for 15 minutes. Throw in some grated nutmeg, salt, and pepper.
While cooking the spinach, prepare a mixture of cottage cheese, egg, and parsley in a food processor. When both the spinach and cheese are ready, put them together in a bowl. Set lasagna noodles in a baking dish with water until they get softer.
As you wait for the noodles, saute chopped mushrooms in butter at medium-high heat for about 10 minutes. Add shallots and thyme before stirring in soy sauce, lemon juice, and heavy cream. Simmer for a few minutes.
For the last element, prepare a cheese sauce by cooking flour in melted butter and adding milk, parmesan and mozzarella. Layer the noodles with the spinach mixture, mushroom mixture, and cheese sauce in the baking dish and bake at 400 degrees Fahrenheit.
If you want to know how to make the most of your ingredients and whip up something special, consider culinary school at Escoffier!
Online Culinary School Planner & Checklist
Online Culinary School Planner & Checklist
Find out what a culinary education can do for you.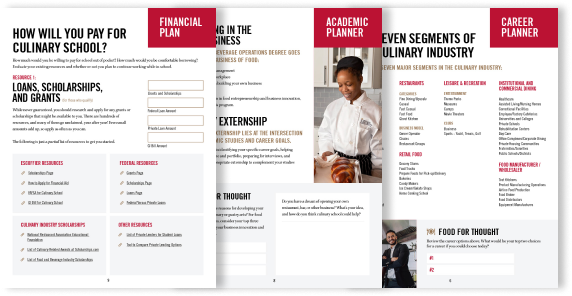 What might a career in the culinary or pastry arts look like for you? Online culinary school is a fast, affordable way to launch a career in the culinary or pastry arts. Get the workbook to see how it could help you.
YES, I want the workbook!