Grits are a Southern favorite. This creamy corn dish is similar to cream of wheat or polenta and can be prepared either sweet or savory. Using instant grits bought at the store will speed up the cooking process and make this dish a quick standby that can be ready on the spot. Prepare the grits as directed by the packaging on the stove top. Once the grits are ready, add in shredded cheese – preferably cheddar. Gradually stir the grits and cheese until they are fully combined and melted and serve warm. In this video, Chef Mark provides an online cooking lesson for creamy, down-home grits and cheese. For more great cooking demonstration videos, subscribe to the LearnToCookOnline YouTube channel.

Cheese and Grits Recipe:
Ingredients:
1 cup of instant grits
6oz Cheddar cheese
1oz of butter
Black pepper
Procedure:
1. Boil water with salt, stir in the grits and continue to simmer.
2. Add cheese slowly 2 oz at the time, melt and take off the heat.
3. Serve with butter, black pepper and some additional cheese on top.
If you have questions or comments about this video or recipe please leave them below.

Online Culinary School Planner & Checklist
Online Culinary School Planner & Checklist
Find out what a culinary education can do for you.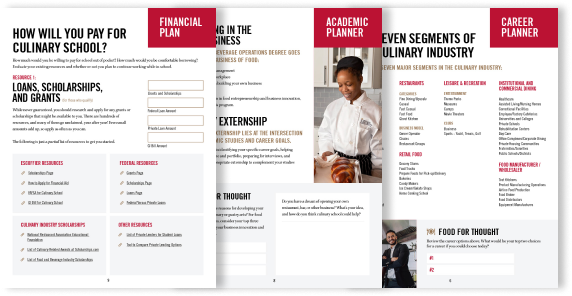 What might a career in the culinary or pastry arts look like for you? Online culinary school is a fast, affordable way to launch a career in the culinary or pastry arts. Get the workbook to see how it could help you.
YES, I want the workbook!