If you're not very familiar with Canadian cuisine, don't beat yourself up over it. Most people aren't! But that's not to say there aren't more delicious delicacies to be had from this unique country other than poutine. Take this maple cream pie for example. If there's one thing Canada is known for, it's maple syrup. The maple tree is such an important part of their culture, they have a maple leaf on their flag, a hockey team named the Maple Leafs and a million different ways to incorporate maple syrup into cuisine. It's a pretty big deal. And if there's a maple syrup dish that's synonymous with Canadian cuisine, it's the maple cream pie. One part cream and one part maple syrup, this pie is rich and luxurious in the absolute best way. You can make your own crust like we did or give yourself a break and just do a store bought one. It's totally up to you! However you make it, we know one thing for sure: this dish is as easy as pie.
So, follow along with our host in this video and learn how to cook this unique palate pleaser. See why this dish is the perfect winter dessert!
---
Maple Cream Pie Recipe
Filling Ingredients:
2 1/2 cups maple syrup
3 cups heavy cream
¼ cup cornstarch
1 tsp vanilla
Crust Ingredients:
2 cups all-purpose flour
1 tsp salt
2/3 cup butter, very cold
4-6 tbsp ice cold water
Directions:
1.  Preheat the oven to 350F.
2. To start, prepare the dough. Put the flour into a bowl and add the butter. Using a pastry cutter, mix the butter into the dough until there are no more large pieces of butter and the mixture resembles small peas. Then add the salt and the water and mix until the dough is formed. Wrap in plastic wrap and store in a refrigerator to let rest for about 15 minutes.
3. After 15 minutes, take out and roll out on a floured surface. Set and fit in a pie pan, trimming off any excess. Bake at 350 for 5-10 minutes or until golden brown.  Remove and let cool.
4. Next, make the filling. In a medium sauce pan, add the syrup and 2 cups of heavy cream, whisking together. In a small bowl, combine the cornstarch and 1 cup of cream. Cook over medium heat, whisking frequently. Once simmering, start to slowly whisk in the cornstarch mixture to the maple syrup mixture. Bring to a boil and cook for 2 minutes, whisking frequently to not burn the mixture. Cook until the mixture has thickened and coats the back of a spoon.
5. Pour into the pie shell and refrigerate until set, about 3 hours. Garnish with crème fraiche, whipped cream, nutmeg, maple leaf shaped sugar cookies or keep it plain!
Online Culinary School Planner & Checklist
Online Culinary School Planner & Checklist
Find out what a culinary education can do for you.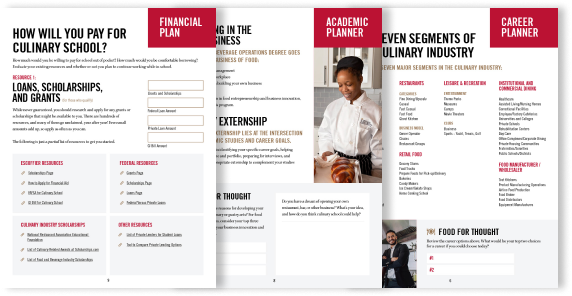 What might a career in the culinary or pastry arts look like for you? Online culinary school is a fast, affordable way to launch a career in the culinary or pastry arts. Get the workbook to see how it could help you.
YES, I want the workbook!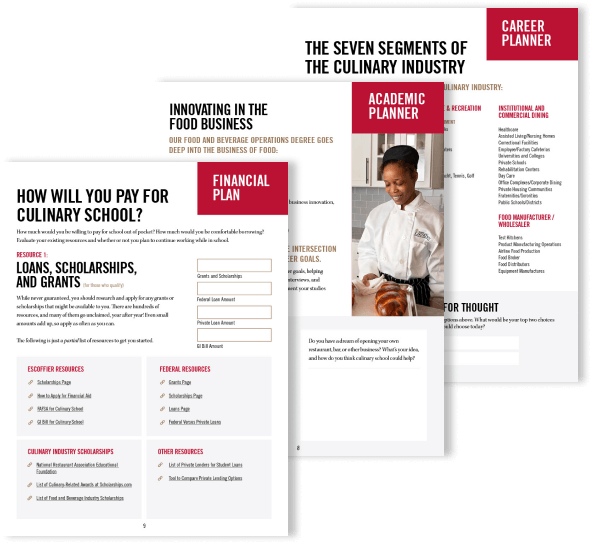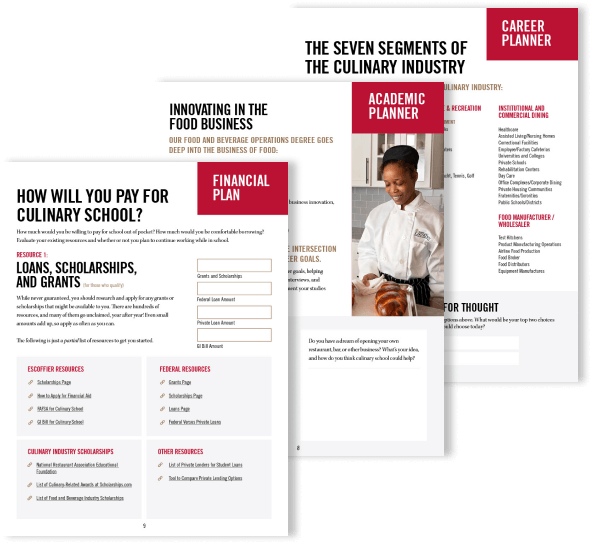 ---
Special Thanks:
Talent: Lauren Nolan of LakeShoreLady.com
Shot and edited by: Matt Rice
Royalty Free Music courtesy of Audio Network titled: "Christmas Eve" by Christopher Ashmore