Chorizo is one ingredient that can improve almost any dish with its spicy, smoky taste. Flavored with dried red peppers, this sausage is commonly cured and smoked in Europe while Mexican varieties are usually sold uncooked. In any version, chorizo offers plenty of possibilities for anyone learning to cook. Here are a few easy recipes to try out:
1. Add excitement to eggs
For a simple breakfast that's worth waking up for, put some spice into your scrambled eggs. The recipe provided by Epicurious can work with either Spanish or Mexican chorizo.
For the Spanish version, chop the sausage and brown it in vegetable oil. If using Mexican chorizo, remove the meat from its casing and cook in its own fat. After about five minutes, whisk the eggs and combine them with the sausage. Stir as you cook for another five minutes, watching for the eggs to set.
2. Put a spicy spin on potatoes
Mexican chorizo can make sauteed potatoes irresistible, as the Food Network's Marcela Valladolid demonstrated. First, dice and boil new potatoes. Remove the casing from the sausage and cook in vegetable oil for 10 minutes. Set the chorizo aside and pour out most of the fat before sauteing the potatoes with a diced onion for about 12 minutes. Then, combine the sausage with the potatoes and onions, plus a dash of salt and pepper.
3. Challenge yourself with a paella
If you're ready for a dish that's a little more complex, try this recipe from Bon Appetit that brings the Spanish sausage together with shellfish and bomba rice. It begins with making a back burner stock from the sausage ends and shrimp shells, as well as olive oil, onion, garlic, bay leaves, cilantro stems, coriander, red pepper and assorted vegetables.
Prepare a soffritto by chopping garlic, celery and onion and then tomatoes in a food processor. Remove the casing from the chorizo and cook it in in olive oil over medium high heat for about five minutes. Move the sausage to a plate and cook the shrimp in the same skillet.
Heat the soffritto in oil before adding white wine and boiling until it reduces. Mix in paprika, sugar and salt and, after a few minutes, the back burner stock with saffron. Cook the rice in this mixture, stirring constantly for the first few minutes and then simmering for another 12 to 15 minutes. Finally, top the paella with the shrimp, chorizo, olives and lemon juice and zest.
If you're interested in an online culinary arts program, you'll find endless uses for chorizo in your cooking.

Online Culinary School Planner & Checklist
Online Culinary School Planner & Checklist
Find out what a culinary education can do for you.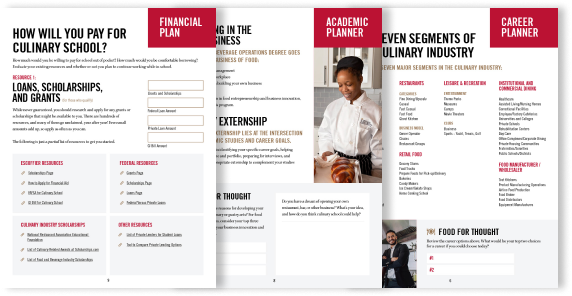 What might a career in the culinary or pastry arts look like for you? Online culinary school is a fast, affordable way to launch a career in the culinary or pastry arts. Get the workbook to see how it could help you.
YES, I want the workbook!