Macaroni and cheese is a delicious comfort food beloved by people of all ages. It's also highly customizable, with plenty of room to try out variations in ingredients and preparation. That makes it the perfect dish for anyone who is learning to cook. Follow these tips to make an exceptional batch of mac and cheese that is tailored to your own tastes:
1. Select your cheese (or cheeses)
Of course, you can't have a fantastic macaroni and cheese unless you start off with quality cheese. Extra-sharp cheddar is the go-to choice, balancing tangy flavor with melting ability. Still, you should feel free to try out some other options and even blend multiple varieties. For instance, Ina Garten's recipe calls for 2 cups of cheddar and 4 cups of gruyere. Monterey Jack, Colby and Fontina, a quickly melting semisoft Italian cheese, are excellent options as well.
According to Epicurious, you should avoid using pre-shredded cheese. Many chefs contend these products contain additives that make them harder to melt and that they are drier and less tasty than a fresh block. Grating your own cheese may seem like more work, but it will pay off when your final product has an irresistible texture and the perfect blend of flavors.
2. Prevent mush
While elbow macaroni are classic, a wide variety of pasta shapes will work just fine for this dish. Try using cavatappi, farfalle, penne or campanelle to see which texture your prefer. Look for a shape that holds just the right amount of cheese.
No matter what type of pasta you go with, it's essential that you keep an eye on how long it boils. Pasta is generally best al dente, meaning cooked but still chewy. You achieve this by using plenty of water, stirring regularly and testing the noodles early and often. For macaroni and cheese, it's best to pull the pasta off the stove early, especially if you want it to absorb plenty of the delicious cheese sauce while baking. Bon Appetit advised undercooking by one or two minutes for stovetop mac and cheese. On the other hand, you should boil macaroni that is destined for the oven for about five minutes.
3. Prepare a white sauce
If you want a creamy macaroni and cheese, the key is a simple bechamel. This French mother sauce is prepared by combining a white roux, made from butter and flour, with milk. Chowhound instructed first heating the milk and melting the butter. Whisk the butter and flour together, and then slowly mix in the milk. Set on medium-high heat, continuing to whisk, until the sauce thickens.
The next step is adding your cheese and seasoning. Salt will liven up the sauce, and you can throw in some other flavors as well. The Kitchn suggested powdered mustard, but you could also go with nutmeg or cayenne pepper.
4. Add in the right extras
The most fun part of making macaroni and cheese is throwing in other ingredients. You can keep it simple by just mixing in a little bacon. However, there are plenty of more adventurous ideas out there, starting by matching the pork's saltiness with some spice from jalapenos, as Serious Eats suggested.
Caramelized onions, broccoli, mushrooms or cauliflower can all be tasty options as well. In any case, keep your planned add-ins in mind when you season the sauce. For instance, if you are going to mix bacon in with the pasta, you can probably cut back on how much additional sodium you pour in.
5. Sprinkle on the perfect topping
If you enjoy your macaroni and cheese baked with a golden crust of crunchy bread crumb topping, you have a few options. There are a number of varieties on the market, but most mac and cheese enthusiasts swear by panko. According to Popsugar, these Japanese-style flakes have greater surface area but less density than other bread crumbs. This means they make an extra-crispy topping for mac and cheese.
Macaroni and cheese is a fantastic dish to explore for anyone interested in online culinary courses. Your signature version can develop along with your cooking skills, as you try out new techniques and more daring flavor combinations. Plus, it's a delicious crowd-pleaser that you'll be proud to show off to friends and family.
Online Culinary School Planner & Checklist
Online Culinary School Planner & Checklist
Find out what a culinary education can do for you.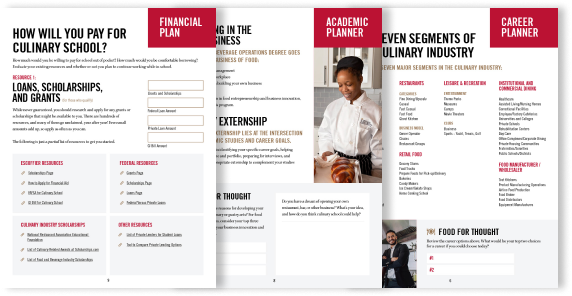 What might a career in the culinary or pastry arts look like for you? Online culinary school is a fast, affordable way to launch a career in the culinary or pastry arts. Get the workbook to see how it could help you.
YES, I want the workbook!