Wild Rice was a staple diet for many Native Americans due to its growth along the shallow shores of the Great Lakes that the United States and Canada share today. While it has long since been domesticated, the name stuck and there are no signs of it changing anytime soon. Wild rice differs from its cousin white rice due to its more vegetal taste, which is why it is often prepared with vegetables. While it stands alone as a meal in and of itself, it also serves as a great side to steak, chicken or whatever else you have one hand. Learn to cook online with Chef Cesar as he provides you with a simple homemade wild rice recipe. For more great cooking demonstration videos, subscribe to the LearnToCookOnline YouTube channel.
Wild Rice Recipe:
Ingredients:
1 Tbsp olive oil
1 Medium onion, chopped
1 Large carrot, chopped
2 Celery stalks, sliced
2 Cloves garlic, minced
4 Cups Chicken stock
2 Cups Wild Rice
2 Tbsp chopped parsley
2 Tbsp Chicken base
Preparation:
1. Heat oil in a large nonstick skillet over medium heat
2. Add onion and garlic, stirring them together.
3. Add carrots and celery together and cook until tender
4. Add in chicken stock, rice mixture, chopped parsley and chicken base
5. Heat until it boils then transfer into a baking dish
6. Cover the top of the baking dish with foil and cook in the oven at 350°F for 30-35 minutes.
If you have questions or comments about this video or recipe please leave them below.
Online Culinary School Planner & Checklist
Online Culinary School Planner & Checklist
Find out what a culinary education can do for you.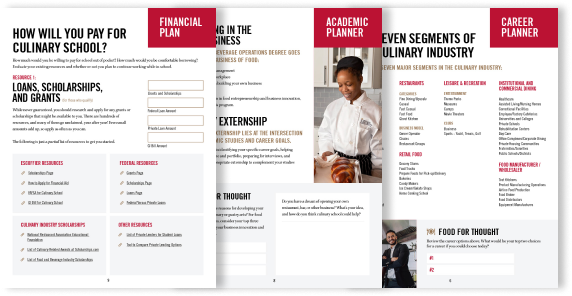 What might a career in the culinary or pastry arts look like for you? Online culinary school is a fast, affordable way to launch a career in the culinary or pastry arts. Get the workbook to see how it could help you.
YES, I want the workbook!