Spanish rich is the perfect accompaniment to Mexican foods and makes for a wonderful side dish. You will need to heat oil in a pan before adding in any ingredients. Let the oil heat and then add in the fine diced onions. Cook onions until they become translucent and keep stirring to make sure not to burn them.  Sauté the rice in the pan until it turns brown. Once the rice has browned add garlic and stir. After stirring the garlic with the rice stir in tomato paste, chicken broth, and bouillon chicken cube. Stir all the ingredients. Turn the flame down, cover rice, and let set for 10 to 15 minutes.  Learn to cook Spanish rice, it is a perfect side dish for any type of entrée. Chef Cesar has great ideas for adding variation to this rice. For more great cooking demonstration videos, subscribe to the LearnToCookOnline YouTube channel.

Spanish Rice Recipe:
Ingredients:
2 Tbsp. oil
¼ Of a medium onion Fine chopped
11/2 Cups Rice
3 Cloves finely chopped garlic
2 ½ Cups Chicken Broth
1 Cup Plain tomato sauce
1 Bullion Chicken base
Directions:
1. In a medium sauce pan, heat oil over medium heat. Add in the fresh onion. Sautéed for 1-2 minutes until softened.
2. Add dry rice and cook with the onions for about 5 minutes or until rice becomes a golden brown color. Add in the garlic to the rice and sauté for one more minute.
3. Add in broth and tomato sauce (add slowly into the rice, not directly onto hot pan!) Stir it up and bring to a boil. 4. Once it starts boiling, turn the heat to low and cover. Let it simmer for 20 minutes and fluff with a fork.
If you have questions or comments about this video or recipe please leave them below.

Online Culinary School Planner & Checklist
Online Culinary School Planner & Checklist
Find out what a culinary education can do for you.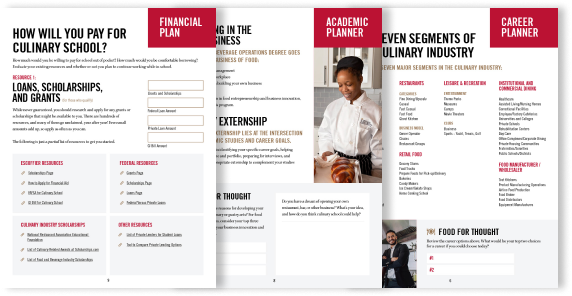 What might a career in the culinary or pastry arts look like for you? Online culinary school is a fast, affordable way to launch a career in the culinary or pastry arts. Get the workbook to see how it could help you.
YES, I want the workbook!