Famed French restaurateur and author Auguste Escoffier dubbed five French sauces "Mother sauces," because of their ability to derive multiple sauces from their original base. Brown sauce, also known as sauce Espagnole, uses a brown stock from veal, beef or sometimes chicken and a brown roux as the base. Tomato puree, mirepoix- chopped carrots, celery and onions- and a sachet of seasoning with bay leaf, thyme and parsley add flavor to the sauce. Brown sauce adaptations are very popular. The most well known is demi-glas, which adds equal parts veal stock to the mother sauce and is reduced over heat. Demi-glas is typically used as a dressing for meat. Other sauces derived from brown sauce typically start with a demi-glas. Marchand de vine is a demi-glas with red wine and chopped shallots reduced by three-fourths. Sauce Robert is demi-glas with onions and white wine. Sauce bordelaise adds red wine, shallots, and bone marrow, and sauce chasseur includes mushrooms, shallots and tomatoes, which is often served with wild game meats. In this video, Chef Mike provides an online cooking lesson for making a perfect brown sauce.  For more great cooking demonstration videos, subscribe to the LearnToCookOnline YouTube channel.

Brown Sauce Recipe
8 oz. Mirepoix, (chopped carrots, celery, onions) medium dice
3 oz. Butter
3 oz. Flour
2 oz. Tomato paste
5 pt Beef stock
½ each Sachet
1. Melt fat in saucepan and brown mirepoix.
2. Add tomato paste and sachet and cook for 5 – 7 minutes.
3. Slowly add flour for thickening (you do not have to use all of the flour).
4. Deglaze with beef stock and slowly add remaining stock. Simmer until desired thickness is reached.
5. Strain and use or refrigerate.
If you have questions or comments about this video or recipe please leave them below.
Online Culinary School Planner & Checklist
Online Culinary School Planner & Checklist
Find out what a culinary education can do for you.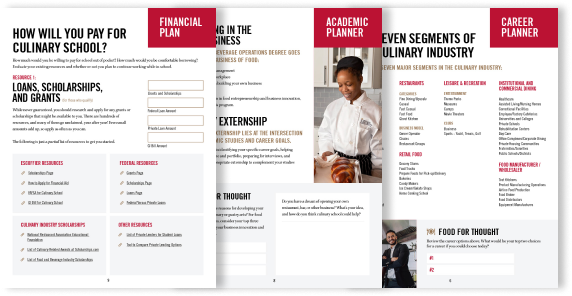 What might a career in the culinary or pastry arts look like for you? Online culinary school is a fast, affordable way to launch a career in the culinary or pastry arts. Get the workbook to see how it could help you.
YES, I want the workbook!