Prepare a cajun roux for the base of this tasty dish. Add diced onions, bell peppers and celery into the roux. As the ingredients blend, add diced garlic, tomatoes, spices and shrimp broth. As the gumbo simmers, prepare the sausage and shrimp. After 20 minutes, allow the whole dish to simmer for the flavors to marry and create that perfect stew-like consistancy. In this video, Chef Mark provides an easy to follow online cooking lesson for cajun shrimp gumbo. For more great cooking demonstration videos, subscribe to the LearnToCookOnline YouTube channel.

Shrimp Gumbo Recipe:
Ingredients:
½ cup Oil
½ cup Flour
2 Tbsp minced Garlic
1cup of small diced onion
1cup green peppers small diced
1 cup of Celery small diced
1 cup of tomato concasser
1 ½ cup of diced and browned Andouille sausage
1 ½ cup of deveined and peeled shrimp.
1Tbsp thyme
3 bay leave
1tsp black pepper
4 cups of shrimp broth
Gumbo file powder (Sassafras leaves)
Direction:
1. Make Cajun roux with oil and flour cook till dark.
2. Add onions, celery, green peppers and garlic.
3. Add the tomato, thyme, black pepper and bay leave.
4. Add shrimp broth.
5. Add browned Andouille sausage and tabasco sauce it should have consistence of a stew.
6. Add Gumbo file powder seasoning to taste.
6.Place in serving bowl.
If you like this post, please be sure to check out the following!
How To Grill Shrimp
Cooking 101: How To Clean and Devein Shrimp
If you have questions or comments about this video or recipe please leave them below.
Online Culinary School Planner & Checklist
Online Culinary School Planner & Checklist
Find out what a culinary education can do for you.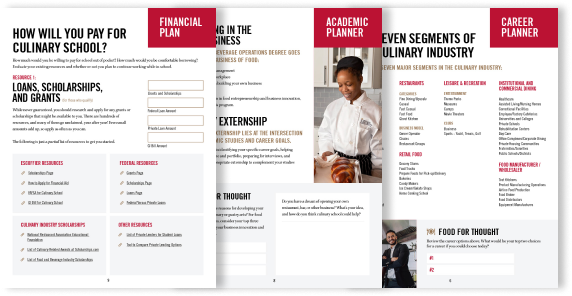 What might a career in the culinary or pastry arts look like for you? Online culinary school is a fast, affordable way to launch a career in the culinary or pastry arts. Get the workbook to see how it could help you.
YES, I want the workbook!