A nice size shrimp to use for this recipe is sold as 16/20, meaning 16 to 20 pieces are included per pound, which you might know from your online seafood class. Chef Mark uses a common Japanese cut for each shrimp in order to reach and remove the intestinal tract. Then flour, egg-wash, and mix each piece in seasoned breadcrumbs before frying. It's recommended to let your shrimp reach room temperature before frying to cook evenly and easier. Also, pay close attention to the temperature of the non-greasy, hot fat; by using your candy thermometer, try to keep the temperature as close to 380 degrees Fahrenheit as possible while deep frying your shrimp. You don't want this to drop below 350 degrees or exceed 380 degrees because doing so will either burn the shrimp, or cause them to have a greasy texture and taste. After deep frying the shrimp for about 4 minutes you're ready to plate this dish. Adding pepper seasoning or hot sauce gives the shrimp a nice spicy lift to the overall flavor. For more great cooking demonstration videos, subscribe to the LearnToCookOnline YouTube channel.

Fried Shrimp
Ingredients:
pound medium shrimp, peeled (tails left on) and deveined
1/2 teaspoon salt
1/2 teaspoon ground black pepper
1/2 teaspoon garlic powder
1 cup all-purpose flour
1 teaspoon paprika
2 eggs, beaten
1 cup panko crumbs
1 quart vegetable oil for frying
Directions:
1. Place the shrimp in a bowl and season with salt, pepper and garlic powder. In a small bowl, stir together the flour and paprika. Place eggs and panko crumbs into separate bowls.
2. Heat the oil in a deep-fryer or deep skillet to 375 degrees F (190 degrees C). Dip each shrimp into the flour mixture, then into the egg, and finally into the panko crumbs to coat. Fry a few at a time until golden brown. This should take no longer than 5 minutes. Remove with a slotted spoon and drain on paper towels before serving.
If you like this post, please be sure to check out the following!
How To Cook Shrimp
How To Make Shrimp Scampi
Cooking 101: How To Clean and Devein Shrimp
If you have questions or comments about this video or recipe please leave them below.

Online Culinary School Planner & Checklist
Online Culinary School Planner & Checklist
Find out what a culinary education can do for you.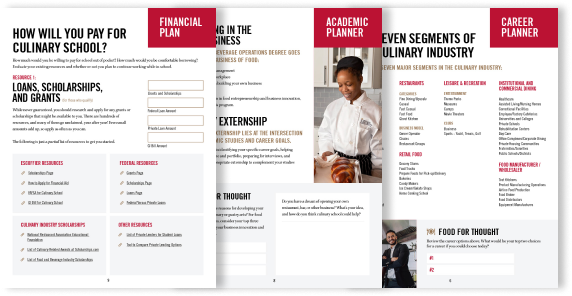 What might a career in the culinary or pastry arts look like for you? Online culinary school is a fast, affordable way to launch a career in the culinary or pastry arts. Get the workbook to see how it could help you.
YES, I want the workbook!