When you are just getting started in the culinary arts, it's important to take things slow and begin with easy recipes. Some of the simplest ones to try out are pasta-inspired, as they require a classic preparation that is perfect for learning cooking basics.
For starters, the shape of your pasta should dictate your choice of sauce, and vice versa. Although this may sound picky, certain varieties are simply better suited for the season or flavors of a dish. Here is a simple breakdown of common pasta shapes used in Italian cooking and which ingredients pair perfectly with them:
Rigatoni
The long tubular shape and ribboned edges of this pasta make it quite sturdy and ideal for catching sauce. For this reason, rigatoni is great in hearty winter dishes and baked specialties.
Penne
Penne is similar to rigatoni, but smaller in size. This makes it an excellent match for lighter, tomato-based sauces like vodka or marinara.
Fusilli
Fusilli's curves and spirals make it a great choice for pasta salads and chunky vegetable sauces. This variety is often paired with delicate cream sauces as well, since its shape catches the dense texture.
Spaghetti
Perhaps the most famous pasta on the market, this rod-shaped option is great for lighter red sauces and oil-and-garlic combinations.
Bucatini
Often ignored in the culinary world, this tubular pasta is actually quite versatile, especially during the winter months. Its thick shape makes it an excellent pair for rustic sauces that contain meat or ham.
Farfalle
This bowtie-shaped pasta is a natural companion for seafood- or cream-based sauces, as it highlights the flavors with its ridges.
Pappardelle
If you have a sauce that features heavy, rustic meats like lamb or duck, pappardelle is a great option. The thick, ribbony features of pappardelle can withstand even the heaviest of ingredients.
Orecchiette
The name of this kid-friendly pasta translates into "little ear" in Italian, as its shape bears a resemblance to the body part.  This is a great substitution for macaroni noodles in your children's favorite: macaroni and cheese. However, this pasta can also be an excellent pairing for drier sauces with broccoli rabe and sausage.
Fettuccine
Like pappardelle, wide and flat pastas like fettuccine pair best with creamier, heartier sauces that need to be sopped up. One of the most iconic sauces for fettuccine that you will find in many Italian restaurants is Alfredo.
Now that you have some background knowledge about pasta, try using some of these varieties the next time you and your family are in the mood for Italian cuisine.

Online Culinary School Planner & Checklist
Online Culinary School Planner & Checklist
Find out what a culinary education can do for you.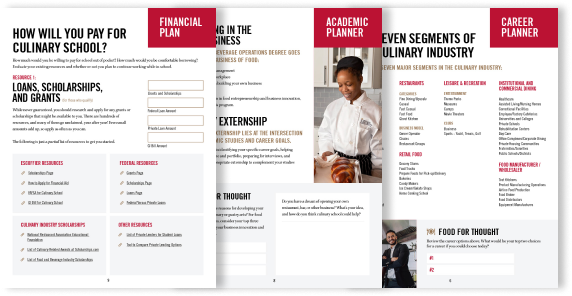 What might a career in the culinary or pastry arts look like for you? Online culinary school is a fast, affordable way to launch a career in the culinary or pastry arts. Get the workbook to see how it could help you.
YES, I want the workbook!