Best thing about Tilapia is that it's an economical fish, it's very lean, and it has very little fishy taste which helps to season. To begin, dip your tilapia first into the flour, then into egg mixture and lastly into the coconut. Once your pan is heated, place the fillet in pan, increase heat to medium and cook on first side for 3 to 5 minutes. Flip fillets and cook on other side until fish is cooked through and flakes easily with a fork. Lastly, garnish with some limes. In this fish lesson, Chef Thomas walks us through one of the easiest fish recipes you'll ever see!  For more great cooking demonstration videos, subscribe to the LearnToCookOnline YouTube channel.

Coconut Crusted Pan-fried Tilapia Recipe:
Ingredients:
1 pound tilapia fillets
1 cup of oil (sesame seed)
1/3 cup all-purpose flour
1/2 tsp salt
1/4 tsp pepper
1 large egg
¼ cup milk
1 1/4 cups Coconut shavings/shreds
Instructions:
1. Preheat sauté pan with oil to approximately 325 degrees or until oil starts showing waves but does not smoke. Line plate with paper towel to be able to soak up any excess oil from finished product.
2. Mix flour, salt, pepper in a shallow bowl. Whisk the egg and milk in another shallow bowl. Spread the coconut in a third shallow bowl.
3. Dip tilapia in the flour. Take the now floured piece and put in the egg, then press into coconut shavings enough to adhere. Lay on baking sheet. Repeat with the remainder of the tilapia.
4. Preferably chill the breading in cooler to adhere better to fish during pan-frying.
5. Pan-fry until fish internal temperature is at least 145F. Place on paper towel to remove excess oil.
If you have questions or comments about this recipe please leave them below.
Online Culinary School Planner & Checklist
Online Culinary School Planner & Checklist
Find out what a culinary education can do for you.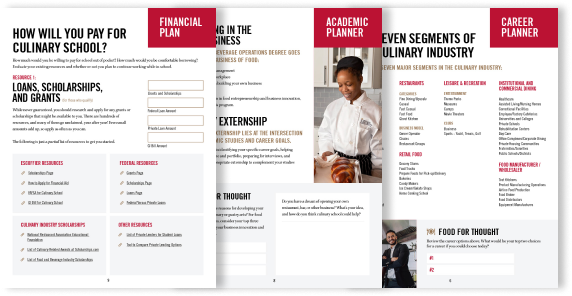 What might a career in the culinary or pastry arts look like for you? Online culinary school is a fast, affordable way to launch a career in the culinary or pastry arts. Get the workbook to see how it could help you.
YES, I want the workbook!