In Maryland, crab cakes are a big deal. This beloved dish is served all across the state and to be authentically replicated, cooks should find the largest lump of crab meat possible. Quality crab meat will allow the fresh flavors to shine without being overpowered by the binding ingredients. Combine some chopped green onion, a whole egg, mayonnaise, lemon juice and seasoning: consider dry mustard, bay seasoning and worcestershire sauce. Once the ingredients are fully combined, make small patties from the mixture and roll them in crushed crackers for a nice crunchy exterior. Brown the patties on each side in a frying pan and allow them to cook all the way through in the oven before serving. In this video, Chef Mark provides an online cooking lesson for a delicious crab cake. For more great cooking demonstration videos, subscribe to the LearnToCookOnline YouTube channel.
Crab Cakes Recipe:
Total Time: 38 min
Prep: 20 min
Cook: 18 min
Yield: 4 to 6 servings
Ingredients:
1 pound crabmeat, picked free of shells
1/3 cup crushed crackers
3 green onions (green and white parts), finely chopped
1/2 cup finely chopped bell pepper
1/4 cup mayonnaise
1 egg
1 teaspoon Worcestershire sauce
1 teaspoon old bay or dry mustard
1/2 lemon, juiced
1 teaspoon salt
1/2 cup peanut oil
Favorite dipping sauce, for serving
Directions:
1. In a large bowl, mix together all ingredients, except for the crackers and peanut oil. Shape into patties and dredge with finely crumbled crackers.
2. Heat oil in a large skillet over medium heat. When oil is hot, carefully place crab cakes, in batches, in pan and fry until browned, about 4 to 5 minutes. Carefully flip crab cakes and fry on other side until golden brown, about 4 minutes.
3. Place in 350 degree oven until they are all the way cooked and reach the internal temperature of 165F. Serve warm with preferred sauce.
If you have questions or comments about this video or recipe please leave them below.
Online Culinary School Planner & Checklist
Online Culinary School Planner & Checklist
Find out what a culinary education can do for you.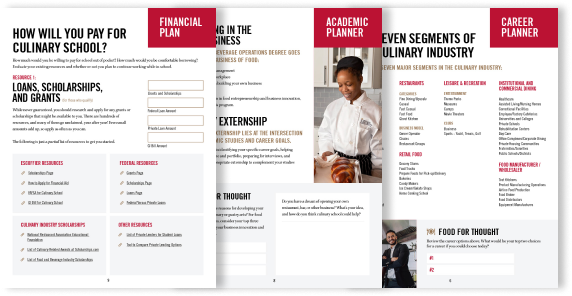 What might a career in the culinary or pastry arts look like for you? Online culinary school is a fast, affordable way to launch a career in the culinary or pastry arts. Get the workbook to see how it could help you.
YES, I want the workbook!