Part of the onion family, shallots have a more mild flavor and share some characteristics with garlic. That makes them a versatile and tasty addition to many dishes. Here are a few easy recipes to put these vegetables to work:
1. Roast them
While shallots are most often used as an ingredient, they can also take center stage with the right preparation. Bon Appetit provided directions for roasting the veggies. First, rinse the shallots off and set them on a baking sheet. Then, place the sheet in an oven set to 425 degrees Fahrenheit.
"Shallots can take center stage with the right preparation."
After about an hour, the shallots should be golden brown and tender. When you can easily cut through the flesh, remove the baking sheet and allow some time to cool. Split the roasted shallots open to serve as a tasty side dish, or remove the skins to use them in a sauce or condiment.
2. Add flavor to chicken
Shallots are great when paired with poultry, as in this recipe from the New York Times. Begin by sprinkling flour, salt and black pepper on chicken thighs. Melt butter in a skillet and cook the chicken on a medium-high heat.
When the chicken is browned and crispy, set it aside. Saute peeled shallots in the mixture of chicken fat and butter for about 10 minutes, watching for them to caramelize. Deglaze the skillet with white wine and throw in Dijon mustard, tarragon and the thighs.
Simmer, covered, for half an hour over low heat. Then, take off the lid and continue cooking another 15 to 20 minutes so the sauce thickens. Stir in halved cherry tomatoes and serve.
3. Make a dip
To get the party started with an exceptional dip, try the combination of onions and yogurt as suggested by Saveur. Chop the shallots and cook them in olive oil with a pinch of sugar. After about five minutes, add chopped scallions for another three minutes.
When the onions are soft, take the skillet off the heat and mix in chives with salt. Combine with two cups of Greek yogurt, salt and pepper. Move the mixture to a bowl and refrigerate for an hour. Then, finish off the dip with more olive oil and chives, plus a sumac garnish.
Shallots bring a mild, yet distinctive, flavor to a wide range of meals. Try these simple recipes and then experiment with incorporating the veggie into some of your favorite entrees.

Online Culinary School Planner & Checklist
Online Culinary School Planner & Checklist
Find out what a culinary education can do for you.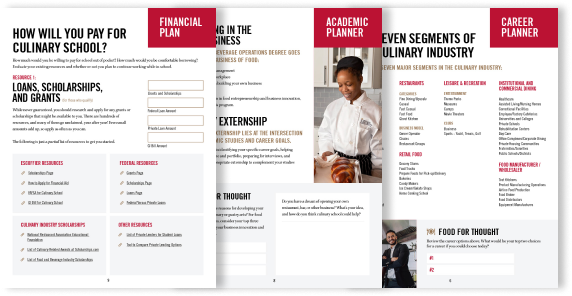 What might a career in the culinary or pastry arts look like for you? Online culinary school is a fast, affordable way to launch a career in the culinary or pastry arts. Get the workbook to see how it could help you.
YES, I want the workbook!