Tempura is common in Japanese cooking. This deep-fried technique uses a special batter that is a delicious way to serve vegetables or shrimp, along with some other traditional Japanese plates. To make the batter, combine flour, cornstarch, salt and sparkling water and allow the mixture to sit for a few minutes. Dust vegetables, fish, or whatever item you want to be tempura fried, and then dip them in the batter. Once they are coated, carefully drop them in hot oil to fry. Once the items are cooked, remove from the oil and allow the excess oil to drain. In this video, Chef Mark provides an online cooking lesson for tasty tempura. To improve your cooking skills try an online culinary class from Escoffier Online's short courses. For more great cooking demonstration videos, subscribe to the LearnToCookOnline YouTube channel.

Tempura Recipe:
Total Time: 1 hr
Prep 25 min
Cook 35 min
Yield: 6 to 8 servings
Ingredients:
1 cup of AP flour
1 Tbsp cornstarch
1tsp salt
1 1/2 cups cold seltzer water
1 1/2 quarts vegetable oil
1 pound seasonal vegetables, cleaned and trimmed
1 pound of deveined shrimp, butterflied
Flour for dredging
Directions:
1. Whisk the flour and cornstarch, salt and seltzer water together in a medium bowl. Set aside.
2. Heat the vegetable oil in a 5-quart rondeaux over high heat until it reaches 375 degrees F on a deep-fry thermometer.
3. Once the temperature reaches 365 degrees F, dredge vegetables in flour and dip in tempura batter. Adjust the heat to maintain between 350 and 375 degrees F. Fry 6 to 8 pieces, at a time, until puffy and very light golden, about 1 to 2 minutes. Remove to a cooling rack lined with 3 layers of paper towels set over a half sheet pan. Sprinkle with salt, if desired. Put the fried vegetables on a serving platter and serve with the tempura seafood.
4. Whisk together the remaining halves of dry and liquid batter ingredients as above and repeat dipping and frying with the shrimp and fish fillets. Sprinkle with salt, if desired, transfer the fish to a serving platter and serve immediately.
Cook's Note: Tempura may be held in a 200 degree F oven for up to 30 minutes, though texture is compromised.
If you have questions or comments about this video or recipe please leave them below.

Online Culinary School Planner & Checklist
Online Culinary School Planner & Checklist
Find out what a culinary education can do for you.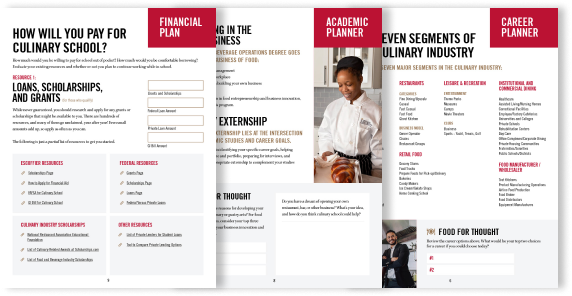 What might a career in the culinary or pastry arts look like for you? Online culinary school is a fast, affordable way to launch a career in the culinary or pastry arts. Get the workbook to see how it could help you.
YES, I want the workbook!