In your online chef courses, you've likely encountered dishes that use shrimp as a staple ingredient – but did you know that there are several varieties of this tasty shellfish? If your online culinary school recipe calls for one type over another, it's important to use the one that is specified because each kind of shrimp has unique textural and flavor properties. Here's what you need to know:
Spot prawns are usually served with their heads on. Many chefs choose to serve this variety because it has a buttery texture and sweet flavor.
White shrimp are harvested around the United States. They have a mild, nutty flavor and firm texture, and can reach lengths of eight inches. White shrimp can be cooked in many ways, including boiling, steaming, frying, baking, grilling or stuffing.
Maine shrimp is a variety that comes from the Gulf of Maine. They are small, live in cold water and are pink in color.
Pink shrimp come from the west coast of Florida and are what most people think of when they talk about shrimp. This variety has a plump, firm texture and classic shrimp flavor profile – best described as an ocean-like taste – that makes it ideal for frying.
Brown shrimp has an earthier quality that some compare to the taste of crawfish, which can be attributed to this type's higher iodine content. About 55 percent of domestically caught shrimp are of this variety, so they're pretty easy to find in supermarkets. Because they have such a unique flavor compared to other kinds, many shrimp lovers will steam or boil brown shrimp to keep that taste intact.
Tiger shrimp are usually caught abroad (they are native to Asian and African waters), and are excellent for grilling and steaming. This variety has a very firm texture and mild flavor, making them ideal for people who are experimenting with cooking shrimp for the first time.
Rock shrimp are considered by some to have both shrimp and lobster elements in their flavor profile. They have a very firm texture, which makes them stand up well to broiling or grilling.
Freshwater shrimp are great if you don't necessarily like the distinctive tastes of other varieties. They have a mild flavor and less-firm texture, so they easily absorb the sauces or rubs they are cooked with. Many chefs like to grill or fry freshwater shrimp.

Online Culinary School Planner & Checklist
Online Culinary School Planner & Checklist
Find out what a culinary education can do for you.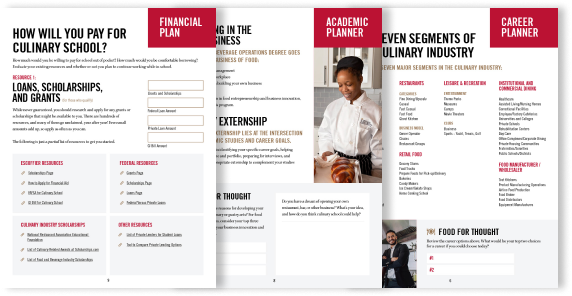 What might a career in the culinary or pastry arts look like for you? Online culinary school is a fast, affordable way to launch a career in the culinary or pastry arts. Get the workbook to see how it could help you.
YES, I want the workbook!